If anyone asks me what's my favourite city in India then the answer would be the city of lakes – Udaipur. It's one of the most beautiful cities in Rajasthan, spread across seven lakes and surrounded by the green, hilly Aravali Range. It also has a slew of nicknames like White City of India or India's most romantic city. Some also call it the Venice of the East, while others refer to it as the City of Lakes. And this could be just the shortest travel blog by me. This city quickly climbed up to the top on the list of favourite places on the very first day of our visit here. It's that beautiful. I've created this travel guide to share everything you need to know about visiting Udaipur.
After checking into our lovely backpackers' hostel, my wife and I unpacked our bags and decided to go for a walk nearby. Fortunately, the ghats were only a five-minute walk away from our hostel, and we had a beautiful view of the lake from our terrace. I'd read that Gangaur Ghat was one of the best places in the city to watch the sunset, and we were astounded by what we saw. We experienced one of the best cityscapes and sunsets while relaxing on the Gangaur ghat.
Teenagers gathered by the lake, some listening to music on their phones, others drawing the sunset on paper and a few syncing to guitar strings and an indie song. While stray dogs lazed in the warm breeze, hundreds of pigeons were picking up grains and simply flying in the sky, adding to the drama. We strolled over to the lake's edge and sat down, eager to spend a few moments watching the calm waters lap beneath our feet and the sun sink lower into the hazy orange sky. I wanted to soak it all in as it was such a magical moment.
After half an hour of this pre-sunset drama, we got up and crossed a bridge to nearby Ambrai Ghat, another vantage point said to be ideal for sunset. The view from here was mind-blowing. The City Palace was lit up on one side, and The Lake Palace is located in the middle of the lake on a small island. Behind the Lake Palace, you can see the famous Jagmandir Palace, which is built on a small island. Both of these palaces have been converted into luxury hotels. As the sun set, the lake began to enhance the twilight by reflecting thousands of lights from lakeside architecture.
WHAT TO SEE IN UDAIPUR?
Udaipur is well-known for being a place to unwind and relax and is the city to visit with your partner and soak up the romance. The city is full of gleaming palaces and many historic sites to explore. Street art to photograph, ghats to watch the sunset from, and peaceful lakes to stroll alongside are all highlights. It truly is as wonderful as everyone claims. While there are plenty of things to do in town, it's also a city where simply meandering through the streets is an excellent way to spend a day. Let's get started with some of my favourite things to do in the city.
Spend half day at City Palace
City Palace is a palace complex that was built over nearly 400 years with contributions from several rulers of the Mewar dynasty. It was constructed atop a hill in a fusion of Rajasthani and Rajput architecture, providing a panoramic view of the city and its surroundings. Lake Pichola and several historic monuments such as the Lake Palace, Jag Mandir, Jagdish Temple, and Monsoon Palace are visible from here. A portion of the city palace and the 'Zenana Mahal' (Ladies Chamber) has been converted into a museum, which is the only area of the palace open to the public. We wandered from one area to the next for more than three hours, seeing numerous historical and cultural artefacts, taking hundreds of photos, and making sure to look out every window for some spectacular city views. We had a wonderful time sitting in the museum's Central Garden. Beautiful flowering shrubs, trees, water basins, and arched pavilions adorned this garden.
Visit the Jagadish Temple
Jagdish Temple, a Hindu temple that has been in continuous operation since 1651, is one of Udaipur's most popular attractions. It was incredible! The temple is a magnificent example of either Māru-Gurjara or Chalukya architecture, with ornate carvings. This temple is a short distance from the city palace. The sanctum of the temple houses an idol of Lord Jagannath, also known as God Vishnu or God Krishna in local parlance, carved from a single black stone and adorned with four arms, flowers, and finery.
Take a sunset boat ride at Lake Pichola
Lake Pichola is an artificial freshwater lake, created in the year 1362, named after the nearby Picholi village. It is one of the several contiguous lakes and developed over the last few centuries in and around the city.
When it comes to watching the sunset from the lake, there are two options: budget and luxury. The more expensive option costs Rs 800 and departs from City Palace. You are taken to Jagmandir, a palace on an island in the lake, where you can walk around and watch the sunset before getting back on the boat and returning to the city. Alternatively, you can go to Lal Ghat and pay Rs 300 for a short sunset cruise that departs at 5 p.m. You won't be able to walk around the island palace, but you will be able to watch the sunset from the centre of the lake from the boat.
Admire the street art
I couldn't get enough of the murals or wall paintings in Udaipur, more than anywhere else in Rajasthan! Traditional paintings and some with modern vibes adorn the white-washed walls all over Old Town, and I think I photographed almost everyone I saw. I'd recommend spending an hour or two wandering through the narrow lanes of Old Udaipur, trying to spot as many paintings as you can.
Have a tea of coffee by the lake
There are countless fantastic places to watch the sunset in Udaipur. After a long day of sightseeing, it became routine for us to find a coffee shop near the lake about an hour before sunset and enjoy a lemon-ginger tea or a steaming hot coffee. I am sure that any of these would enhance your sunset view.
Watch the folk dance show at Bagore ki Haveli
One of the most appealing things to do in Udaipur is to visit the palatial haveli, which is located on the shores of Lake Pichola and thus offers a spectacular view. The massive structures serve as a living museum, revealing the royal loves of the kings and queens. The haveli also hosts an hour-long local folk dance show in the courtyard in the evening.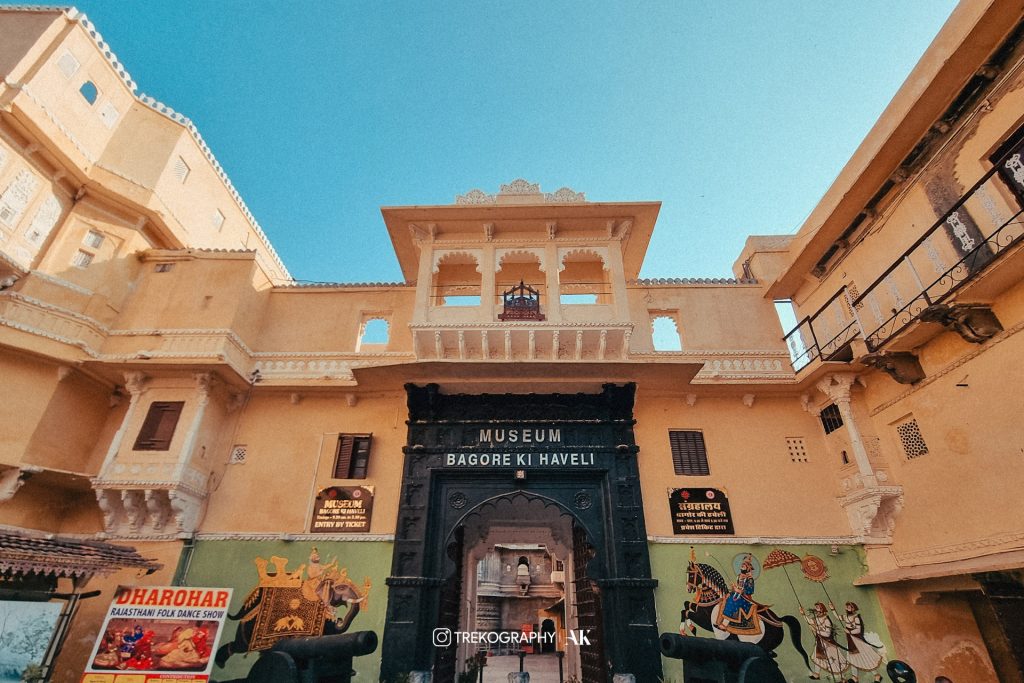 Take a day trip to Chittorgarh
Chittorgarh Fort is massive — one of India's largest — and sprawls across 700 acres on a hill overlooking the city. The complex is filled with temples, palaces, gates, and towers, each one intricate and majestic. When I was planning blogs for this trip, I was unsure about writing a separate blog about Chittorgarh, but I ended up doing so.
Don't miss the shopping fun
Udaipur's shopping areas include Hathi Pol, Bada Bazar, and Bapu Bazar. Saris, cushion covers, jewellery, artwork, handbags, rugs, and wall hangings are everywhere, and they're all brightly coloured, vibrant, and ridiculously cheap.
Enjoy beautiful flowers at Saheliyon ki Bari
Saheliyon-ki-Bari (Courtyard or Garden of the Maidens) is a popular tourist destination near Fateh Sagar Lake. It has lovely gardens, fountains and kiosks, a lotus pool and marble elephants, and a small museum with information about Indian history.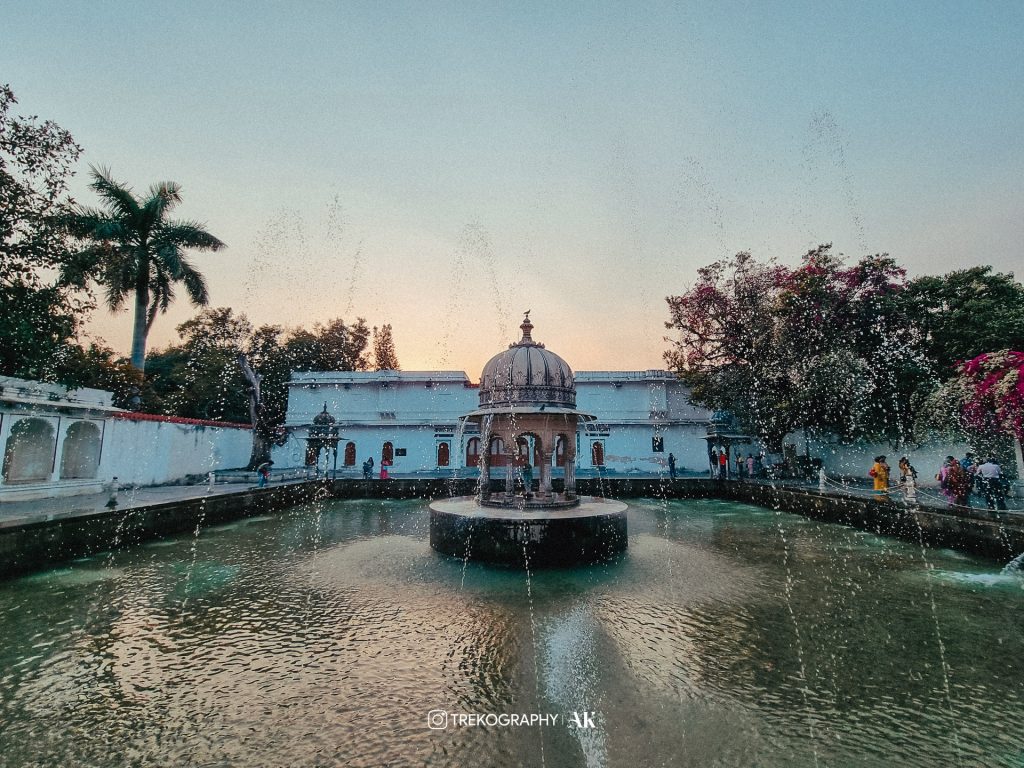 Explore the Monsoon Palace
The Monsoon Palace or Sajjangarh Palace is a palatial residence on a hilltop. With a view of Fateh Sagar Lake, Sajjangarh is named after Maharana Sajjan Singh of the Mewar Dynasty. It was built primarily to observe the monsoon clouds, so it is appropriately known as Monsoon Palace. The palace provides a panoramic view of the city's lakes, palaces, and countryside.
Hike the Bahuballi Hills at sunrise
It is primarily a viewpoint from the Aravali Hills overlooking Badi Lake. Badi Lake has long been a popular tourist attraction, and the Bahubali Hills only add to its allure. It gives us a place to admire the beautiful Badi lake and the Aravali Hills range of mountains.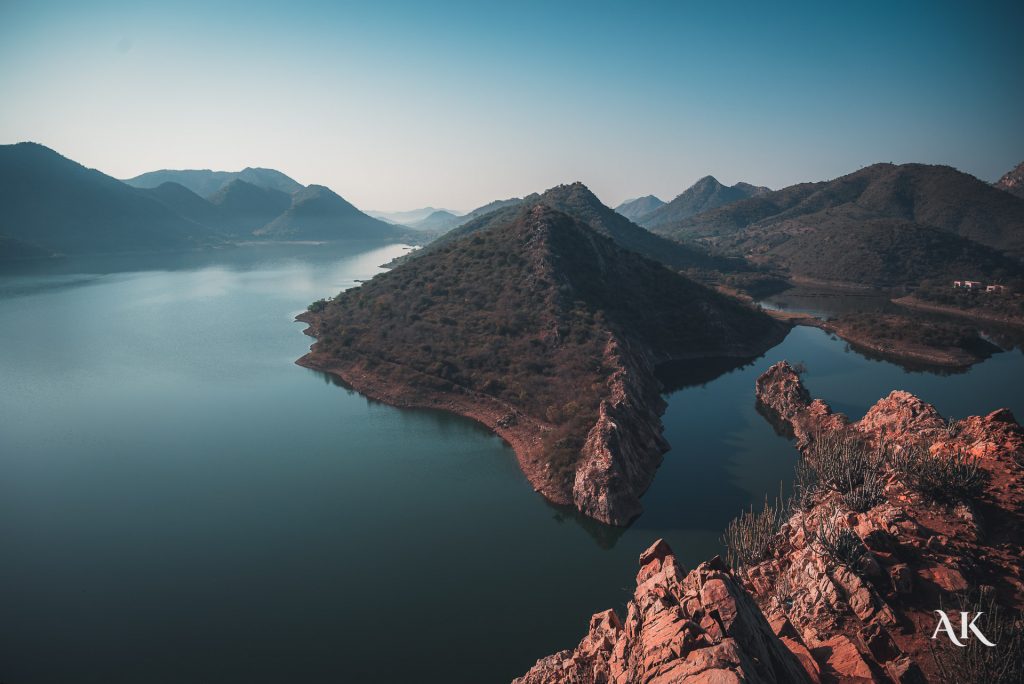 WHERE TO STAY IN UDAIPUR?
We loved staying in Udaipur's old city and, despite the noise, would recommend staying in a hotel or guesthouse in that area because you'll be so close to everything you want to see and can easily walk down to most of the places. Often these hotels and hostels have rooftop terraces with stunning views of the city and, more importantly, the lakes.
WHERE TO EAT IN UDAIPUR?
Well, there are many excellent fine-dining places in Udaipur, and we dined at a few of them. However, in the area surrounding Lake Pichola, we noticed a range of modern as well as quirky cafes and restaurants. If you enjoy eating street food, Sukhadia Circle is the place to be.
Street Food Joints

Sukhadia Circle
Paliwal, Jagadish Temple Road

Fine Dine

Upre
Ambrai
Harigarh
Raasleela
Khamma Ghani

Cafe

Backyard Cafe
Jheel's Cafe

Local Cuisines

Neelam Restaurant
Natraj Dining
HOW TO REACH UDAIPUR?
Udaipur is served by direct flights from major cities such as Delhi, Mumbai, Bangalore, and Jaipur. It is also a major station on the North Western Rail Line, with express trains running from Delhi, Jaipur, and Mumbai. Udaipur is one of the major cities on the Delhi-Chennai NH48, making it easily accessible by car. AC buses operate between Ahmedabad, Jaipur, Indore, and Mumbai.
WHEN TO VISIT UDAIPUR?
Udaipur, like the rest of Rajasthan, is best visited between October and March, when temperatures are at their coolest. Summers here are not as bad as they are in other parts of Rajasthan, but you will definitely feel the heat during the day.
Keep these contacts handy for your next Udaipur visit.
Shankar Kharol +919784303065 (Super friendly and safe driving experience)
Nikhil (Baldev Tours) +919783001887, +919588200933
Lalit (Shyam Tours) +919413771684
Amit Jethi +918000586150
Udaipur is the city to visit if you enjoy intriguing your travel taste buds. A city that will compel even the most sedentary person to leave their hotel room and take to the streets. For a brief moment, the landscape may remind you of the Himalayan foothills, but its unmistakable warmth will remind you of the aroma of the desert. Udaipur, with its rich history, can only be experienced through the senses. So go ahead, plan your trip to Udaipur and enjoy the local cuisines, poetic language, and friendliness of locals.