Since my school days, I have always loved history. I always try to find historical references to any place I am travelling. And as an avid history lover, I admire not just Chhatrapati Shivaji Maharaj but kings and leaders from other parts of India as well. Maharana Pratap is one such leader and it was my dream to visit the forts and palaces of his Mewar region.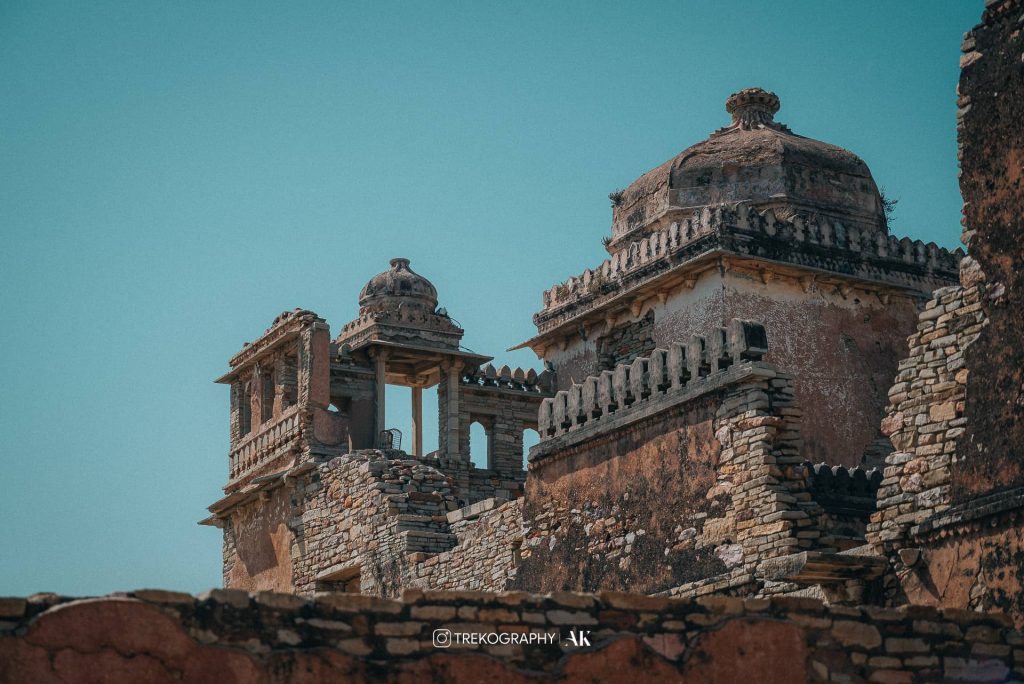 History
The Chittorgarh Fort also known as Chittor Fort is one of the largest forts in India. It is a UNESCO World Heritage Site. The fort was the once capital of Mewar from the 7th century to the 16th century under Rajput rulers. The formidable fort is standing on the 180-meter-high hillock and covers an area of approx. 700 acres. The long serpentine road takes us to the fort through seven massive gates or 'pols', which are guarded by watch towers and huge iron spiked doors. As we started on the road, every stone, and monument here is telling the stories of Rajput pride, courage, devotion, love and sacrifice. And this was one of the reasons for visiting Chittorgarh. In my belief, Chittorgarh is a depiction of Rajput culture and values to the core.
What to see?
Tower of Victory (Vijay Stambha)
Built in 1440 AD by Maharana Kumbha to commemorate his victory over Mohamed Khilji this 9-story tower is adorned by sculptures of Hindu deities around. This tower is an excellent example of architecture.
Rana Kumbha's Palace
Once a massive monument and now in a ruined state, this palace was named after the Sisodia king Rana Kumbha. This palace is one of the oldest monuments on the fort and is located near Vijay Stambha. The palace is believed to have underground cellars where Rani Padmini and other women committed Jauhar. This place was once the home of the famous bhakti poetess Meerabai.
Tower of Fame (Kirti Stambha)
Kirti Stambha, probably 12th century is smaller than the Vijay Stambha and is dedicated to Adinath the first Jain Teerthankar. The tower was built by a Jain merchant
Rani Padmini Palace
Padmini Palace was once the abode of the beautiful Rajput queen, Rani Padmini. The palace is a white and three-storied structure that overlooks a pleasant pond in the surroundings.
Fateh Prakash Palace
Built by Maharana Fateh Singh this huge palace is of modern style. It is now a government museum and has a rich collection of sculptures from temples and buildings in the Fort. It also exhibits various kinds of weapons which include daggers, old shields, knives, helmets, axes, uniforms of soldiers etc.
Temples of Chittorgarh
Chittorgarh is home to Hindu and Jain temples which are seen all over the fort. Notable ones are below
Meerabai Temple – Built by Maharana Kumbha in 1449, the temple has beautiful idols in its sanctum, mandap and pillars. the temple reflects the Indo-Aryan style of architecture which was very famous in those times and is still a part of our cultural heritage. The temple is dedicated to Meerabai, a saint-poet who devoted her entire life to worshipping Lord Krishna.
Kalika Mata Temple – The temple originally built as a Sun temple in the 8th century, was destroyed by Allauddin Khilji in the 14th century. Later reconstructed as Kali Mata temple.
Jain Temples – There are many Jain temples as well in Chittorgarh, a notable one is Satbis Deori.
Gates of the Fort
There are seven gates (Pol in the local language) on the fort. All the gates to the fort have been built as massive stone structures with secure fortifications for military defence. The doors of the gates with pointed arches are reinforced to fend off elephants and cannon shots. The names of the gates are Padan Pol, Bhairon Pol, Hanuman Pol, Jorla Pol, Ganesh Pol, Laxman Pol, and Ram Pol (Main Gate).
How to reach?
Air – The nearest airport is the Maharana Pratap Airport at Udaipur.
Rail – Chittorgarh is well connected by railways from various cities like Delhi, Udaipur, Jaipur and Ajmer. There is a train that runs daily between Udaipur-Chittorgarh.
Road – Chittorgarh is also well connected by road as it is one of the cities on the golden quadrilateral road project.
Best Time to Visit?
Similar to other parts of Rajasthan, Winter is the best time to visit.
---
I'd suggest hiring a government guide, they'll make the experience magical by telling the historical stories at the monument and also guiding you with correct information. Our experience to visit Chittorgarh was indeed exciting as I always wanted to visit and explore this fort since childhood.